No loss of heat, and no lack of style or glamour with our stunning crystal radiator covers and crystal console tables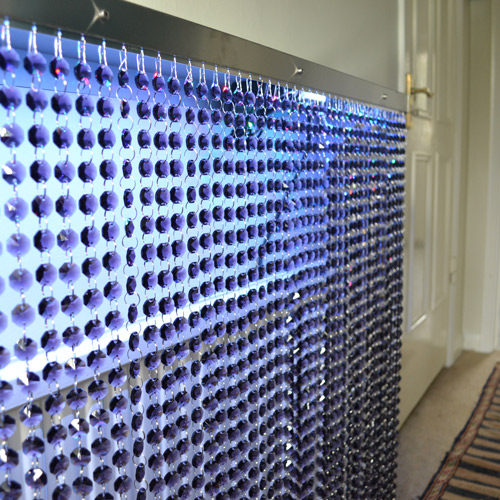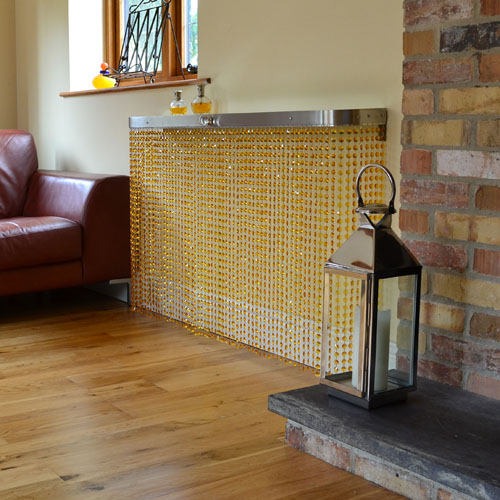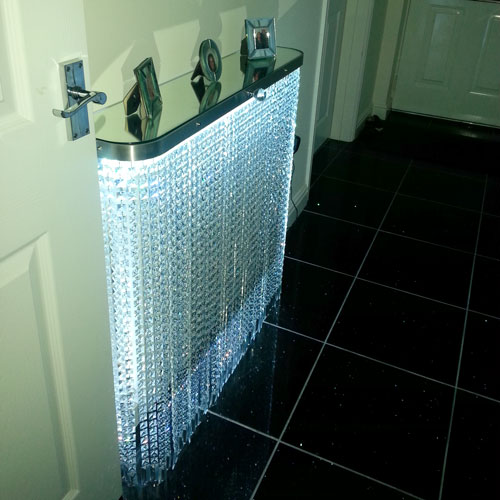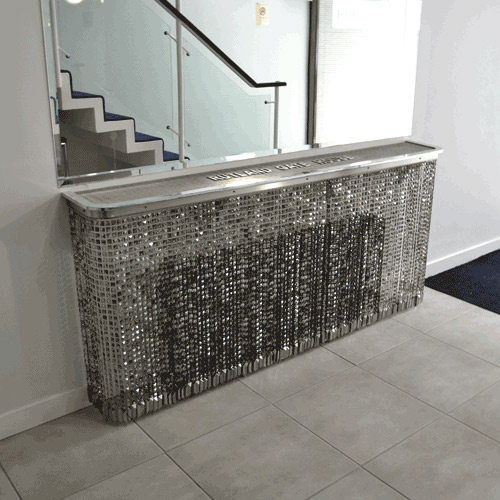 It is difficult to imagine the impact these wonderful crystal shutters create in the home. Constructed using grade AAA glass crystal, each console table or radiator cover is custom made to your exact design. Whether placed in a modern hallway, a glitzy bedroom, a kitchen or living room , these covers are the ultimate glamour accessory for the home.
A few of our customers comments
"Thank you very much for installing that amazing crystal shelf in the entrance hall of the building. The shelf itself is very solid and the engraving on it looks perfect, the crystal beads cover the radiator beautifully and the whole thing looks classy and elegant. All the residents of the building are very happy to see that the radiator has been discreetly covered under the pretty grey crystal chains and they all commented on how the whole entrance of the building has been tastefully transformed since the crystal shelf has been put in. You answered patiently all our questions before we made the order (lots of questions from lots of residents!) and the result was even better than we expected, you are also very pleasant to work and this is a plus! Can't wait to work with you again" - Angie in Rutland Gate, South Kensington, London
Excellent product, looks stunning, everyone waiting to see my crystal radiator cover. If you like something different, this is it." - Linda Shea, Canary Wharf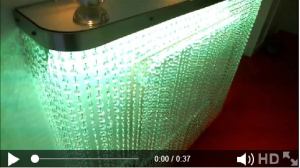 With so many different colours to choose from when illuminated by the optional LED lights, or simply a shimmering design statement at any time of the day, these crystal covers and consoles just ooze quality. Choose a bead colour, choose a bead style and then choose a top from either a mirror or cast aluminium option. Our shimmering and glistening crystal radiator covers are the most effecient you can buy, and create the biggest impact by far.
If you cant find what you are looking for online, contact us via the enquiries form and we will work with you to create the best solution for you.
Please note that all pricing for Crystal radiator covers and Crystal console tables is via our sister site Modern Radiator Covers.