Houzz award winners for 2016.
We are delighted to announce that we recieved a Best Of Houzz 2016 award for customer service. This was quickly followed by Houzz Influencer and Houzz Pro Awards.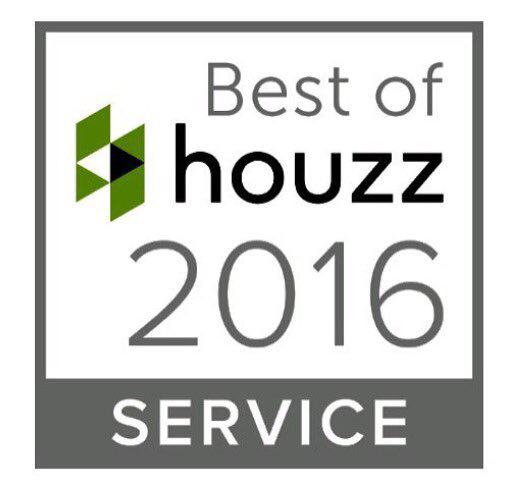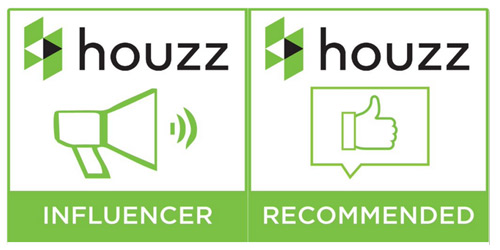 Thank you very much for installing that amazing crystal shelf in the entrance hall of the building. The shelf itself is very solid and the engraving on it looks perfect, the crystal beads cover the radiator beautifully and the whole thing looks classy and elegant. All the residents of the building are very happy to see that the radiator has been discreetly covered under the pretty grey crystal chains and they all commented on how the whole entrance of the building has been tastefully transformed since the crystal shelf has been put in. You answered patiently all our questions before we made the order (lots of questions from lots of residents!) and the result was even better than we expected, you are also very pleasant to work and this is a plus! Can't wait to work with you again. Angie in South Kensington.
Many thanks again,
"I have been looking for something different for the kitchen radiator for ages...your sight is the best I have come across...a godsend actually..lots of great and new ideas..thank you". Regards. Susan, Birmingham
"I used my own design for my YOYO Digital Case, seeing the finished article just blew me away.
The quality of the product is exceptional & my dealings with Couture Cases through making an enquiry, ordering, payment & delivery of my case was a first class professional customer experience" - Karen White, Everton, Merseyside
"Couture Cases products are like nothing we'd ever seen before and the attention to detail and customer service were second to none. The radiator cover is a real talking point and we know we made the right decision investing in what effectively is a piece of art. The guys and their products come highly recommended!!" - Steven & Francesca, Stamford, Lincolnshire
"I am so thrilled with my new radiators, especially thrilled to be featured on the webpage -The radiators have truly fitted in with my style of home and the quality lives up to the look. Paul and Alison have put their very special personal spin on all the interactions and have been as keen as myself to ensure everything was carried out with the upmost thought and care. You truly deserve any recommendations and success you receive. Many thanks, Linda Q" - Linda Q London

"Turns something that is functionally ugly into an architectural statement" - David Snell, Author and contributing Editor Homebuilding and Renovating Magazine
"Congratulations on your new range of radiator covers - from concept to production you have shown an admirable flair for originality in the aesthetic as well as practicality. I am impressed with your attention to detail and quality, and have no doubt that your products will be much sought after in the marketplace especially at such a fair price point". - Hans Calvert, Designer, Union Interiors, Grantham.
"As a group of real estate professionals we are constantly on the look out for creative designs and ideas especially for a drab feature as radiators. And here comes couturecases with a solution. The best way to describe their products are Unique with a very high degree of personalisation to suit everyone's tastes right from the everyday radiator to a high spec 'centre of the room' feature.They sure have made my designer's job easier". - Deepak Ahuja, Director, Upper Berkeley Management, London.
"Hottest cases on the planet" - Braggables Team Blog, Austrailia
"La firma inglesa Couture Cases llega en nuestra ayuda con sus nuevos productos: cubrerradiadores de diseño para ocultar los radiadores de nuestra vista, al tiempo que se pone una nota muy decorativa en cualquier espacio. El secreto está en la gran variedad de diseños y materiales que podemos escoger.
Una vez más, la tecnología digital se pone al servicio de la decoración para crear todo tipo de motivos decorativos. Se pueden emplear cientos de imágenes, e incluso emplear nuestras propias fotografías. Pero hay mucho más. La firma Couture Cases propone diseños lisos realizados en material vinílico, con colores neutros o muy llamativos; o imágenes primaverales de motivos florales para poner una nota fresca en casa; o ¿por qué no usar la bandera Union Jack, tan de moda en decoración últimamente? Las posibilidades son infinitas." - Decorablog, Spain. http://www.decorablog.com/cubrerradiadores-de-diseno-que-crean-ambiente/
"'Having worked with Architects and Interior Designers these couture covers are the most amazing I have seen in my whole career.
I highly recommend them to anyone wanting a high quality way to completely change their living space. These couture covers uplift any room" - Wayne de Wet (Multiple award winning decorator, Grand Winner Dulux Select Decorator of the year 2011)
"So weird how this hasn't been widely adopted before! Radiators a boring necessity, well not anymore!" Eastside Properties.

"I'd never seen anything like it. Truly love the uniqueness of it and yes they are pretty amazing" LHI Designer.

"Very creative. I like the ones with fabric. Kind of gives the radiator the feel of a unique piece of furniture" Judy Moore, Home and Lifestyle expert, author, blogger.

"Absolutely stunning" - Caroline Holder, Interior Designer
@CoutureCasesLtd Just discovered your range of radiator covers via @passionforhomes. Ourselves & sister company @LMHeating are big fans! LandmarkLofts
"A radiator as a stylish interior design statement? Really?! Oh yes..... totally amazing aren't they, stylish and cool" Jo Ridout, Director, Passion for Homes
@couturecasesltd @itv60mm @juliakendell Loved the rad covers. Great makeover. Busy weekend. Karen Julien, Painter, Decorator, Wall Artist.
@CoutureCasesLtd: It's another 'cover up' from 60 minute makeover team Peter Andre & Julia Kendell today @ITV60MM."- great job, thank you! Julia Kendell, Onscreen Interior Designer


"it was difficult to find high quality furniture, that was thought provoking yet didn't cost a small fortune. Couture cases seem to have found the mix" - Roger and Claire, Qatar.
"We were passionate that we didn't want what everyone else had – we wanted to stand out from thecrowd." - Tim and Claire, London
"Excellent product, looks stunning, everyone waiting to see my crystal radiator cover. If you like something different, this is it." - Linda Shea, Canary Wharf
(Before and after at Linda's hiding the radiator....... Linda, thank you very much for your warm hospitality...and the wine & chocolates...)