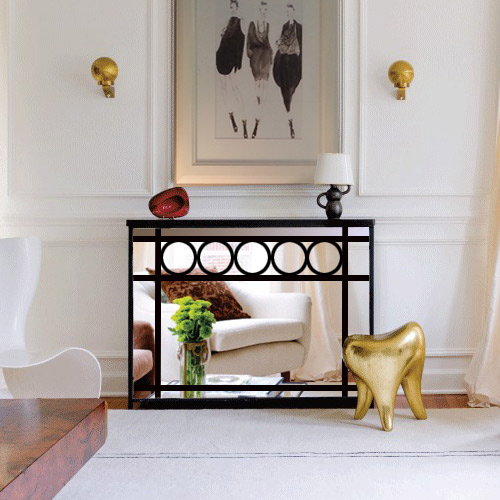 Our Art Deco radiator covers in YOYO style are our best selling range, and are available in all shapes, sizes, finishes and textures to suit all interiors. We have created ART DECO radiator covers in all our eyelet ranges, where satin black along with satin white is the standard colour. Manufactured in laser cut metal, not only are they wonderful to look at, but they are also timeless, yet still create amazing talking points in any room.
New for 2015 is our range of ART DECO MIRROR radiator covers or console tables, where light is reflected back into the room with ease, and designs are timeless yet classic. All our radiator covers have amazing heat transfer performance. . For the first time you can make a radiator cover that is a joy to look at, timeless in design, with truly innovative styling. Choose whether you require a perforated top, mirrored top or a cast aluminium personalised top. It is easy to see why when you can create dramatic high quality radiator covers with so many options.
We also have fantastic customer testimonials submitted to independant forums.
Please contact us via the enquiries page if we can help in any way. Our modern radiator covers are all manufactured in the UK. Please browse through our gallery, or view additional designs at our sister site Modern Radiator Covers